These photos may take a minute or two to load...please be patient. I wanted the photos to be large enough so that you can really see the soap. Yes, it has been a while since I've updated this page, and a lot has changed including our location. I'll get some photos of soap making "shop style" in the new factory/showroom up soon. The basics are the same, though -- our soap is made carefully, and with lots of attention to detail. It's just that now we make it in a really big tub. We are in the process of adding and updating the pictures....thanks for viewing them ....Deby C 2006

Our new shop!
Pumpkin Spice Soap

Soaps!
| | |
| --- | --- |
| Busy shop! | Deby's Folks.. Richie and Rosemary at the Saturday Morning Market in St. Pete Oct-May, Central Ave between 1st and 2nd street, 9am-2pm |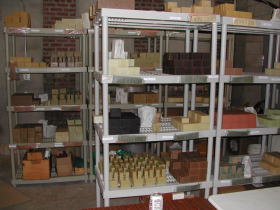 I have several of these racks in the soap studio. The soaps usually cure for a day or two in the loaf, then I cut them and set them up to cure for another few weeks on the racks. When they're nice and firm, I make room for more soap by stacking the unwrapped bars in cardboard boxes until I'm ready to wrap them. You can see why we're outgrowing the studio!



Richard Ciacciarelli 2006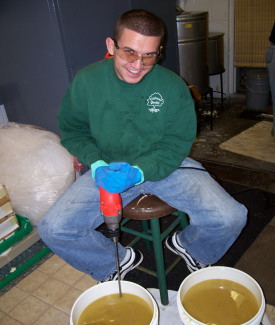 My older son Richie, he really loves making soap!



Don't be surprised to find our soaps in some
of the most out of the way little places.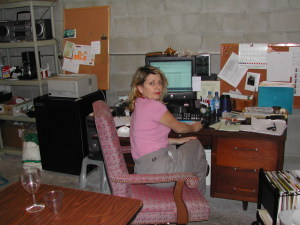 Here I am in my office. Probably pondering what to do with this photo album!


Some of the ingredients I use in the soap. Left to Right, clockwise: Lavender, Chamomile, Almonds, Calendula petals, Annatto seed.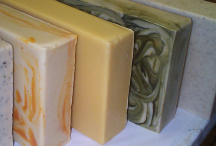 Necessity is the mother of invention, and all that...the orders are getting larger, so the molds had to, too. My friend Chris built a few large slab molds, and here's a lavender batch just out of one(right). I put the bars on top for perspective. Anyone want a BIG bar of soap? I found that these molds were too big to work with regularly, and I prefer a 12# mold (shown left, and below, in the series of photos about mixing and pouring). When I cut and trim the soap, there is always a bit left over. I really hate to waste it, so I roll it into balls. These are nice for guest bath soaps, or just to use as a table centrepiece. Just kidding. But you should see our house...

When I want certain qualities in the smooth lather the soap produces, the best way to get that is to use special oils or waxes (avocado, shea, jojoba), which I do, and to macerate certain herbs in the olive oil before making the soap. Here I'm macerating comfrey leaf and root, ginger root (just a little), plantain, and calendula in olive oil. The soap will still have the fluffy lather from coconut and palm kernel oils, but it's smooth, creamy lather will be dense and really special.

Another way to get at least some of the botanical qualities into the soap is to make a tea as your liquid. Here I've got plantain, comfrey, and ginger root steeping in distilled water, and when it's finished, I'll use the strained tea to make my lye solution for the soap. In an otherwise unscented soap, this tea may offer a bit of scent, but definitely it gives a rich, herbal color to the soap.

What a mess to work with -- but worth it! Here I'm straining as much of the olive oil out of the plant material as I can. It gets messy as I use muslin or unbleached coffee filters to wrap this in, so that I may get every last drop. No photos of that -- no way I'm getting my digital camera all greased up!
Ah... black gold. Nearly -- it's actually a dark, dark green. This particular maceration was made with comfrey and plantain, and it smells good enough to eat! It is pretty labor intensive to get this oil, but you'll miss it in my soaps (e.g. the patchouli, lavender and oakmoss recipe) if it's not there -- trust me.

To make a ginger tea for my sweet ginger citrus soap, I have soaked a couple of chopped up hands of ginger in distilled water for about a week in my fridge. Now, I'm ready to blend a bit, to force as much of the plant material to join the tea as possible.

The blending done, I'm straining the plant material out of the tea into a jar. This is unbearably time consuming and I think I need to get better equipment :) but it sure smells terrific. When I'm finished, I pop the tea into the fridge to get really cold. I'm going to add part of this tea to my lye, and then I'll heat up the rest and add it when I add my oils to the lye.

Here are the hard oils (all of the vegetable oils that aren't liquid at room temperature). They've been carefully weighed and now they're melting over a low to medium flame. You can see that for this recipe I used several different hard oils.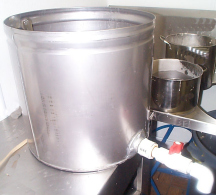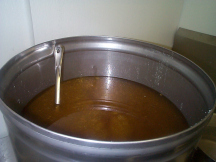 New in 2001: We purchased a stainless steel honey melter, and Leslie built a faucet for it. It works like a double boiler. We can melt about 15 gallons of oils in it, and it's much safer than stovetop melting; the oils can't overheat. When the mix is melted, we pour off what we need, add our lye solution, and make a batch of soap. We usually do 2 - 3 batches of oils in a session, but we can do 4 if we fill it all the way up. That would fill 8 of our molds.
Now they're nearly melted, and I'll turn the heat off so the last bits will melt, but the oils won't get too hot. I'll be mixing them with a lye solution that I prepared a half-hour earlier. The next few steps are where soaping gets interesting!

My 12# molds prepared with liners. There are LOTS of fancy molds out there -- some that have special lids, others that break apart, some with plastic liners, some with special edges for cutting the soap. A good mold is essential, and I've tried many of the specialty molds -- and liked some. But we decided to build our own (it's much less expensive) and size them to match the cutter we built, too. They're really simple -- just boxes. They don't break apart. I line them with freezer paper that I buy in large rolls at the Restaurant Supply Depot in town (if you go, tell 'em hi!).
I've just poured the lye into the oils, and I'm beginning to stir. This is a critical stage, as the temperatures of the oils and lye/water need to be compatible, and the stir needs to be swift enough to mix the ingredients thoroughly.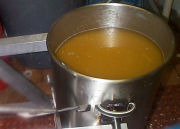 Here's our new pot -- this one holds about 50 pounds of oils. It's perched on a pot tipper, which really helps me handle the pour.

I've been stiring for awhile, and now the soap has achieved "trace", which means that it's thick enough to pour. First, though, I need to add any essential oils or other special ingredients.

Here's a photo from another session - you can see that we powder our oatmeal - no one likes oatmeal blobs, really <g>:

I'm pouring essential oil into the just-traced soap.

For the cocoa butter chococate swirl soap, I've taken a few cups of traced soap out and mixed them up with cocoa powder. I'll swirl this back into the soap after I pour the rest of the soap into the mold (see below).
This is the first bit of the soap poured into the mold. I'm about to add the cocoa-powder mixture to get my swirls.

This is how that soap looks after I've swirled in the cocoa powder mixture. I get SO hungry for cheesecake when I make this soap!
When the big slab has hardened enough to tolerate being handled, I cut it into loaves, and then into bars.
We love our new bar cutter from Chestnut Farms. Dick is a wizard with wood and wire, and we've cut over 2000 bars on this little wonder in less than three weeks: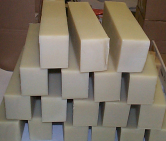 We've got a new loaves photo -- this is from 2002 (finally!) Loaves that have been trimmed and allowed to breathe for a few days. They're ready to cut into bars. On the outside they feel hard, but deep inside they're quite soft and moist, and they still need a few weeks to cure. If I leave the soap in loaves to cure, there will be some moist soap in the middle even three months down the road, but it's safe to use.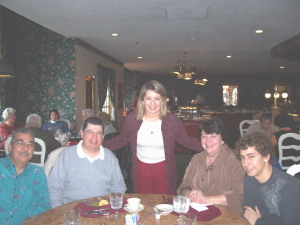 The Natural Mystic 2006 Holiday Celebration