Handmade Soaps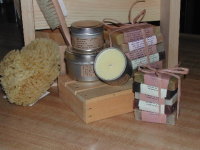 Our Bestsellers


Our soaps are premium-quality cold-kettle soaps handmade from scratch with fruit, nut and grain vegetable oils, herbal extracts and teas. Our soaps are stirred, cut and wrapped by hand in small batches using recipes painstakingly developed to produce a soap that feels terrific in your hands, offers a glorious lather, and leaves your skin clean and feeling soft.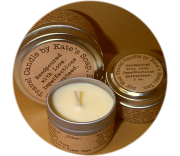 Soy Wax Candles
Light a clean-burning soy candle at your bedside after your bath.Rediscover the pleasure of your bathing ritual. Choose a soft body brush, a natural-fibre cloth, or an environmentally harvested sea sponge, and lather up with a handcrafted soap. From soothing Oatmeal to sensual Gaia Patchouli, you'll find that our fine handmade soaps will enhance your bathing experience every day.



Gifts & Accessories
Add a bath brush, loofah, or wooden soap dish to a couple of bars of soap, and you have a gift! Or, let us put 2 or 3 bars of soap in a gift crate for you.
---
We won't bother you but a few times a year with news and specials.